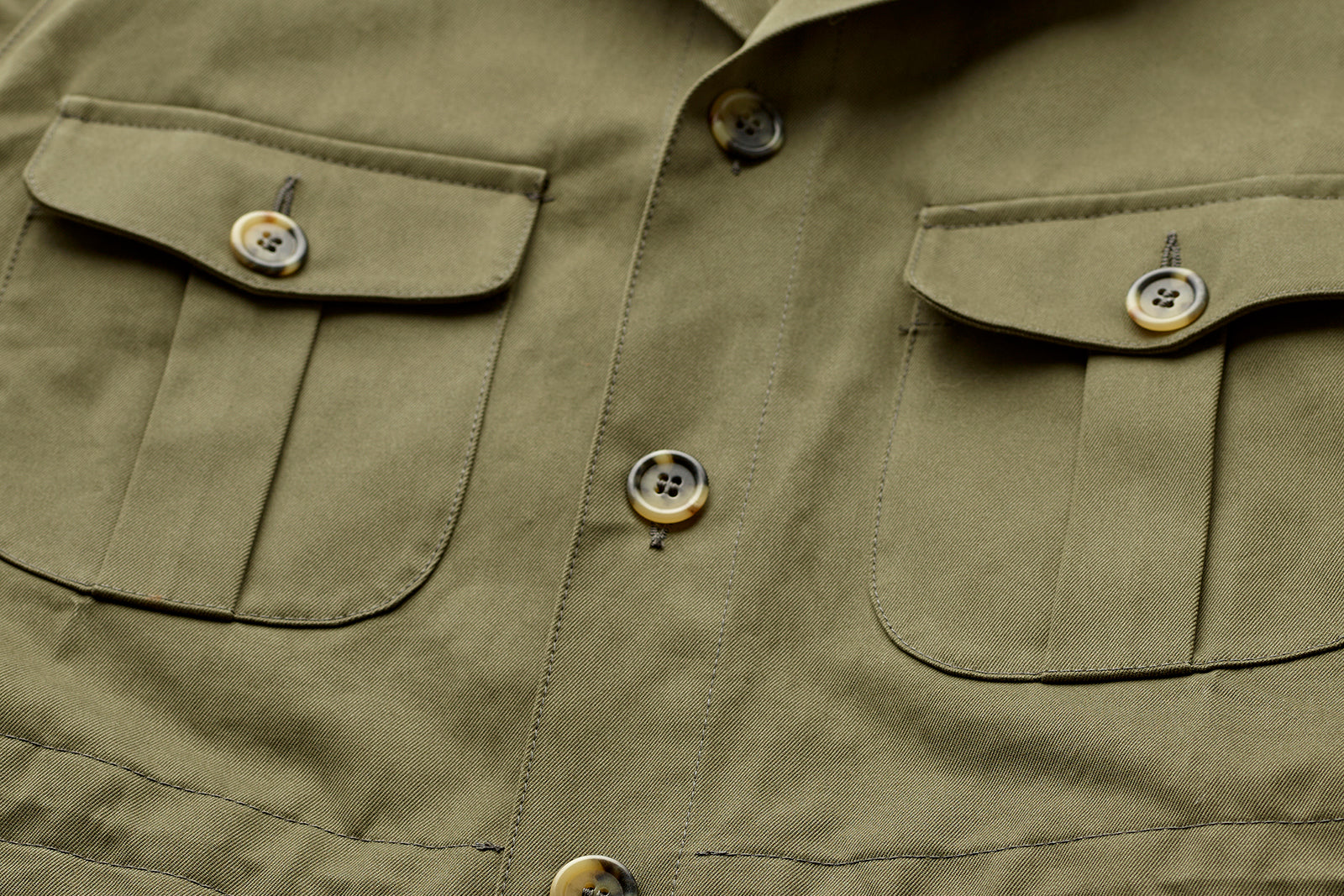 Early Origins : The Safari Jacket
As the Safari name suggests, this iconic design was originally developed for use in the warm climates of the harsh African savannah. Its origins date back to the early twentieth century, when British and European troops were stationed in South Africa.
Initially developed for European soldiers venturing into exotic terrain, with a lightweight and breathable style. These jackets were often produced in a khaki colourway, in order to blend seamlessly into rugged landscapes and because the khaki dye was cost effective to use on a large scale. 
Design features often include an internal drawstring, a breathable pleat to the lower back, button up front and patch pocketing, with little changing to the style over countless decades due to its comfort, practicalities, historic allure and sophisticated demeanour.
Renowned maker's Justo Gimeno have been tailoring specialist garments since 1907, creating the likes of the Spanish Teba jacket, British inspired pieces and the iconic safari jacket. A family-owned business now in its fourth generation of members, crafting exquisite and selective pieces for the refined gentlemen.
We have worked closely with Justo Gimeno, to launch a safari jacket reminiscent of original and historical pieces. Ultimately, crafting an exquisite and timeless garment to see one through many adventures. 
Expertly tailored by the talents of Justo Gimeno, from a fabric chosen to be in keeping with the original qualities and characteristics of traditionally produced safari jackets.
Presented in either a French Blue or Khaki Green colourway, the jacket is beautifully detailed with signature safari jacket details, along with being crafted from a cotton twill based cloth to provide strength and durability to the piece. The hand-feel is relatively dry with a slight brushed feel and smooth handle, to be in keeping with the original ethos of the safari jacket.