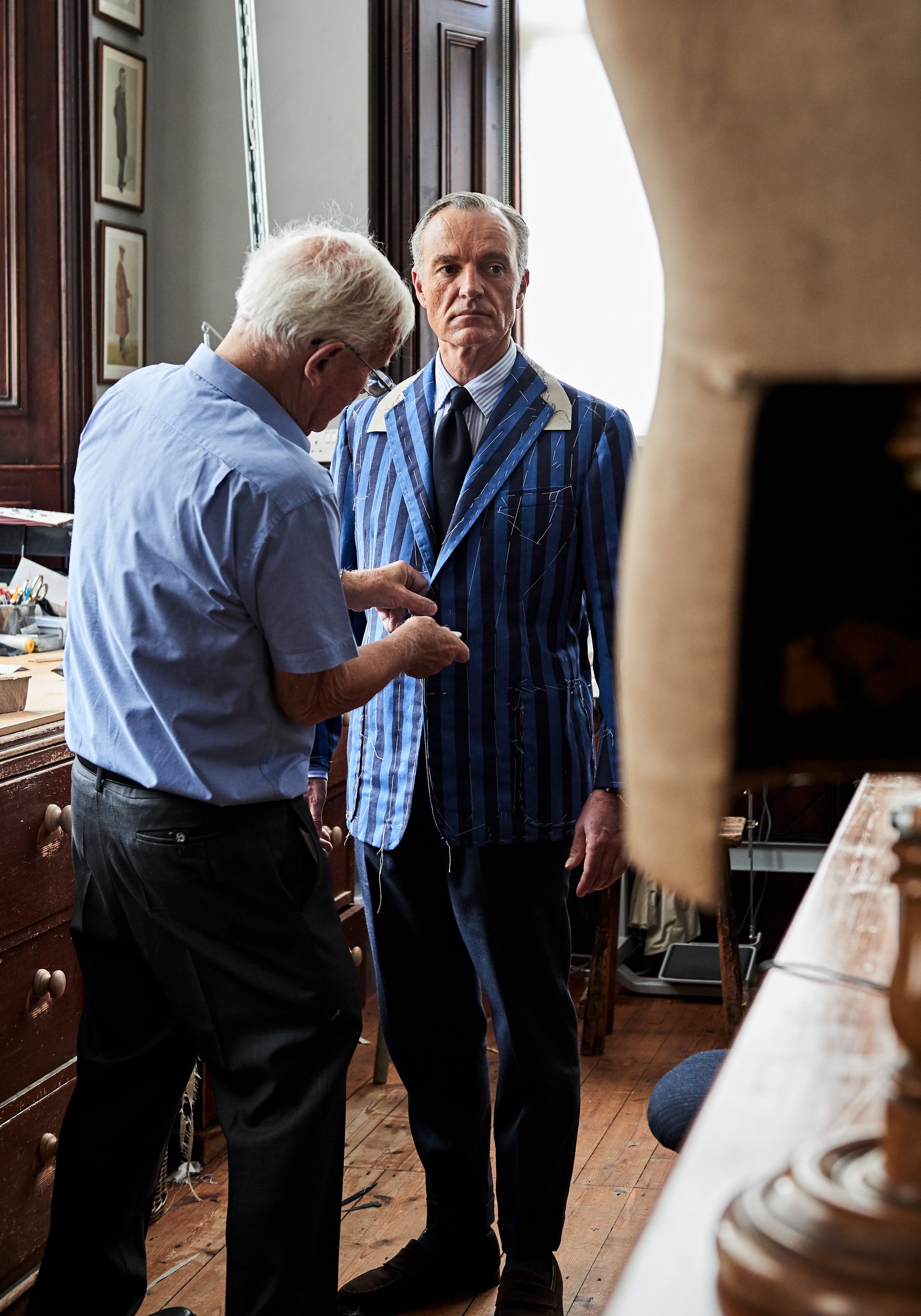 Meet the Maker : Brian Smith Bespoke Tailor
Getting a bespoke suit made is something to experience at least once. It's as close as we can get to the person or people behind our garments – a relationship often overlooked.
 Brian Smith is the in-house tailor at Fox Brothers. He began working with the company in 1994, after four decades of honing his skills on Savile Row. As a Savile Row trained tailor, his style can be described as classic British : Drape cut suits featuring a soft and extended shoulder, a smaller arm hole a and a high gorge. It's a style that has been pioneered and popularized by legendary London based tailor Frederick Scholte during the interwar years. At the time, Scholte's most popular client was the Duke of Windsor, who's approach to style was ahead of the times and remains influential to this day. He favored a more relaxed aesthetic, something that we can all agree is the standard for many tailors today.
Over the decades, Mr. Smith's tailoring style has remained consistent. During our conversation at The Counting House
,
he mentioned that a good quality, well-fitting suit doesn't need to change because it will never go out of style. He also added that over time, customer orders have remained relatively unchanged. Classic items, such as the single breasted, two-buttons suit is just as popular today as it was a few decades ago. A navy worsted wool cloth is a good place to start for most people, says Mr. Smith. However, each customer has different needs and preferences, and therefore requires different options.
The first bespoke suit is often the most challenging, marked by the crucial initial measurements – the blueprint for a new pattern. Most issues will be addressed and worked on, and therefore, all future commissions should be easier, for both the tailor and the customer. Fittings conducted at The Counting House
in Wellington, Somerset will give you access to a wide variety of fabrics, not to mention that all complimentary accessories are available on site, further adding to the bespoke experience. However, Brian travels to London on a regular basis, which is a convenient option if you are based or work in the city. In total, the process takes approximately 12 weeks from the initial meeting until the final delivery of the garment.
A good tailor should be able to suggest the cloth, cut and details that best suit the customer's physical features. He should also be honest with his customers and advise them to stay away from something that wouldn't suit them. That's the kind of relationship your tailor should have with you, says Mr. Smith. It must be built on mutual trust. 
To Schedule an Appointment with Brian Smith at The Counting House, Please send us an e-mail at : enquiries@themerchantfox.co.uk
Or call us : 
+44 (0) 1823 662271