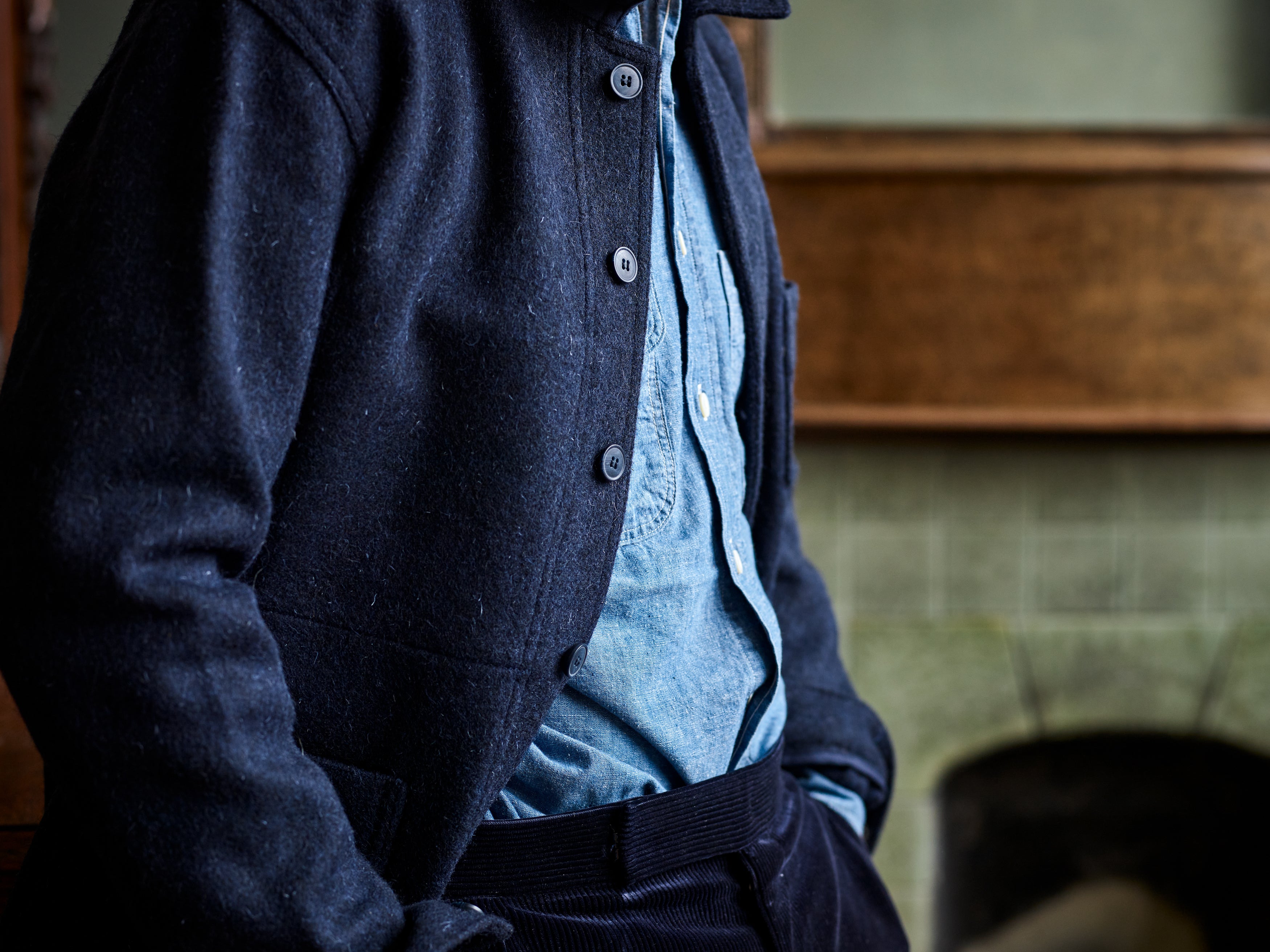 Bruce Boyer's Letter from America - July 2021
Whether you see it styled in the long-roll button down collar, softly unconstructed spread, or long point the chambray shirt is the go- to shirt. Of course there's chambray and then there's chambray. I mean there's the stiff, unwashed version with either white or blue plastic buttons that's the authentic workwear of sailors, cowboys, and other "blue collar" workers [chambray's the source of that phrase], or there's chambray: Italian, pre-washed to a faded baby blue and lightweight as a cumulus cloud at sunset, mother-of-pearl buttons, hand-sewn with perhaps a whisker of a taper to the body and sleeves. The former is still available from surplus stores and online outlets for $50 or so, the latter can put a crimp in your credit card.
These admirable shirts are more than default now not only because they're so flattering, but because they they're so well attuned to today's more casual wardrobes. They can be worn with a silk knit tie to accompany a nice linen summer suit or sports jacket, with a bandana and casual chore or safari jacket, or open-necked with khakis, jeans, or shorts. Everything in short except formalwear.
The esteemed 20th Century British costume historian James Laver theorized that modern menswear evolved from two sources, sports clothing and battle dress. He died in 1975, just around the time other fashion historians started talking about other sources for men's fashion. Sources such as the great influence of "prole" clothing., i.e., the rugged workwear of cowboys and carpenters, truckers, farmers, and construction workers. Laver missed this influence because he grew up in the early 20th century when the influence of fashion started at the top of the social pyramid and flowed downward. Today we're all a bit more democratic, influence and ideas come from everywhere.
I only mention all this because from what I see in the shops around town and on the most tastefully accoutered guys on the street is exactly that: jungle field jackets and khakis from the military, cotton rowing blazers from sports, and jeans and chambray work shirts from workwear. This season the humble chambray work shirt continues to be the sexiest thing going.
The chambray shirt in the 19
th
and most of the 20
th
centuries was found mainly on manual laborers and service men, particularly sailors for whom the garment was general deck-scrubbing wear. But starting after WWII, when demobbed service men started to wear their old G.I. clothes as casual attire, or went "On the Road" like Jake Kerouac in a lumberjack coat, chambray work shirt, and old khakis, or first became enamored of the rebel-without-a-cause look, the blue chambray shirt has been on the scene.
The driving force of design today is to gentrify the utilitarian design of workwear by using a better make and better fabrics. Think of "chore" jackets, once made of heavy, stiff, indigo-dyed denim to protect French streetsweepers San Francisco dockyard ship loaders, and bricklayers everywhere, we now have this ingenious casual coat in buttery suede, Japanese selvedge needlecord, Irish linen, cotton twill, and even the dressier high twist tropical woolens. We've all come to understand that practical, utilitarian design can be very handsome indeed.
Style got a hold of the chambray work shirt and gently coaxed it into the comfortable, flattering, urbane shirt it is today. Whether you want the surplus model with two flapped chest pockets, long straight collar and plastic buttons, or something a bit more Capri- inspired with a soft unfused spread collar and cuffs, pleated yoke, higher armholes, tapered sleeves, and mother-of pearl buttons is a matter of taste, not to mention economics.
Written by G. Bruce Boyer